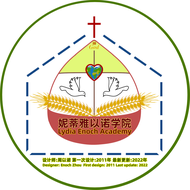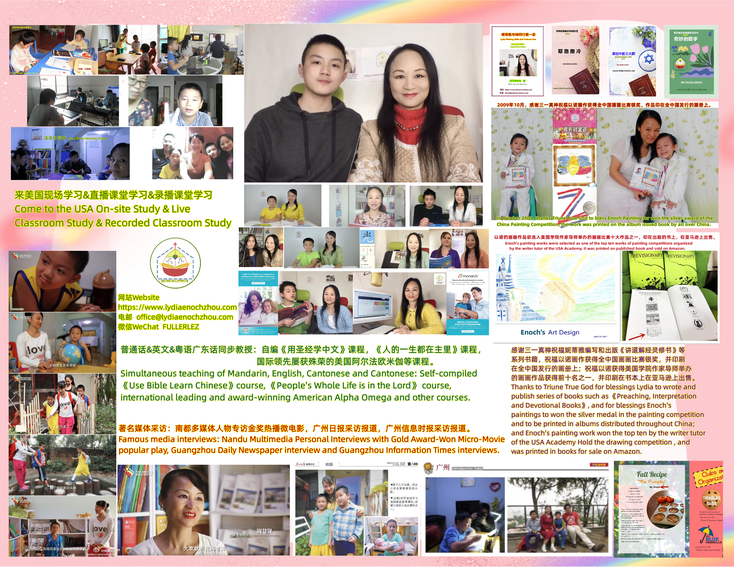 我们的基督教教育的侍奉,神给我们的带领是:
学生们和学生家庭需要遵守神给我们的异象:"只用圣经资源教导孩子。"(从自有生命开始到超过100岁,我们都是阿爸父神的孩子。学生和学生家人的言行,所携带和使用各样事物物品都需要符合圣经真理原则才可以。)
我们的国际LEZ课程,有我们编写的《讲道解经灵修》系列课程,《用圣经学中文》课程,从零岁到成人的《人的一生都在主里》课程。还有USA Alpha Omega Course 美国阿尓法欧米茄国际领先的屡获殊荣的三岁到十二年级的英文普通话双语教学课程等等;需要学习你想选的课程和了解各课程学习费用,请与我们联系商议确定。
About our ministry of Christian education, God's guidance to us are: 
Students and student families need to abide by the vision God given: "Only Use Bible Resources to Teach Children." (From the beginning of our own life to over 100 years old, we are all children of Abba Father God. The words and deeds of students and student families , carrying and using all kinds of things and items need to conform to the principles of Bible truth.)
Our International LEZ courses include the series of courses 《Preaching Interpreting and Devotionals》, the course 《Use Bible Learn Chinese》, and the course "People Whole life is in the Lord" from the age of zero to adults. There are also USA Alpha Omega Course, the international leading award-winning English-Mandarin bilingual teaching course for grades 3 to 12. When you need to learn the courses you want to choose and learn about the tuition fees of each course, please contact us to discuss and confirm.
网站    https://www.lydiaenochzhou.com                                    
Email: office@lydiaenochzhou.com
---
---
哈利路亚!很多年前,神有话对妮蒂雅说:"无论到那里,都要做我的见证。" 2013年的一天,神有话对妮蒂雅说:" 在这里,会有好些人来采访你们。"  以下是神带领祝福的,在2013年-2015年期间,著名媒体&制片人&记者采访妮蒂雅和以诺的信息。
Hallelujah! Many years ago, God had words to Lydia: "Wherever you go, be my witness." One day in 2013, God had words to Lydia: "Here, many people will come to interview you."  The following is the information that God led to blessing Lydia and Enoch, during 2013-2015, well-known media & producers & reporters interviewed Lydia and Enoch.
哈利路亚!2013年10月18日,广州南都多媒体首席记者制片人带团队采访周妮蒂雅和周以诺,制作成微电影,2013年11月18日发表,十几家著名媒体同步报道,几天内网络已经有数十万点击播放,并获得当年全中国第二届微电影比赛金奖。
Hallelujah! On October 18, 2013, the chief reporter and producer of Guangzhou Nandu Multimedia led a team to interview Lydia Zhou and Enoch Zhou, and made it into the micro film. It was published on November 18, 2013 and was reported by more than a dozen famous media simultaneously. There have been hundreds of thousands of hits on the intranet, and won the Gold Award in the second China Micro Film Competition that year.
* 2023年7月12日早上,妮蒂雅传道与以诺同工谈话,问及这个微电影中,以诺关于妮蒂雅说祈祷神给他好老婆的时候说的:"不要"言论。以诺解释说,他那个时候那样说,是因为他那个时候只有七岁多,他要专注学业,所以那样说。妮蒂雅解析说,那时候说的不是当时那个时候娶好老婆,也是说他长大了的时候娶好老婆。以诺说,所以,他的意思也是说,现在他渐渐地在长大了,他会留意神的带领,看看神带领他娶神所预备的好老婆。
On the morning of July 12, 2023, Preacher Lydia had a conversation with Enoch co-worker,and talked about the "don't" remarks that Lydia said about when she prayed for God to give him good wife in this microfilm. Enoch explained that he said that at that time because he was only seven years old at that time, and he wanted to focus on his studies, so he said that. Lydia explained that what she said at that time was not about he will marrying good wife at that time, but also about marrying good wife when he grew up. Enoch also said, therefore, what he meant was that now that he is growing up gradually, he will pay attention to God's leading and see how God leads him to marry good wife prepared by God.
哈利路亚!2014年11月,中国广州人民日报采访周妮蒂雅和周以诺。
Hallelujah! In Nov.2014, the Guangzhou Daily Newspaper interviewed Lydia Zhou and Enoch Zhou.
哈利路亚!从2015年2月到4月,广州信息时报记者,跟进拍摄采访妮蒂雅和以诺三个月,并将照片制作成连环图发表。
Hallelujah! From February to April 2015, the reporter from Guangzhou Information Times followed up with filming and interviewed Lydia and Enoch for three months, and made the photos into comic strips and published them.
---
Found wonderful ways to learn in the Lydia Enoch Academy!
妮蒂雅以诺学院 接收学生的信息
Lydia Enoch Academy Receive Student Information
课程内容:
0岁-2岁 学生中文家长的圣经亲子课程
3岁幼儿级到高三,国际学业中文英文双语课程
Course content:
0-2 years old Chinese parent-child parent-child Bible course
3-year-old toddler to high school, bilingual Chinese and English courses for international studies
接收学生对象:牧者,侍奉者,基督化家庭的孩子们,基督徒学生们。
Accepted students: Preacher, Ministers, and Church leader's children from Christian families, and Christian students.
学习方式 Learning style
A 来美国大西雅图伦顿现场上学学习 Come to study on site in Renton, Greater Seattle, USA
B 通过ZOOM直播学习 Live learning through ZOOM
C 通过录播视频课堂学习 Learning through recorded video classroom
*当我们收到学生家长和学生的入学申请表,我们会安排与学生家长(或父母双方或鉴护的成人)及学生进行面试面谈(现场或视频)来确定监护的成人和学生能同心合意重神的道尊敬导师们的教学,能同心合意尊守我们学院的学习守则,能同心合意配合好我们导师们的教学,能同心合意配合保障学生的学习进度和学习果效。然后,妮蒂雅以诺学院决定让学生可以入学。
联系人Contact:周传道导师 Preacher Tutor Zhou 
网站:https://www.lydiaenochzhou.com
Email: office@lydiaenochzhou.com
学生使用的电脑的系统配置要求:
System Requirements  电脑系统要求
In addition to a reliable High Speed Internet Connection and a recent version of Adobe Flash Player, you must have one of the following browsers:
Google Chrome (current version)
Microsoft Internet Explorer (versions 11 & 10)
Mozilla Firefox (current version)
Apple Safari (version 9)
Apple Safari (version 8)
Microsoft Edge*
*While a number of touchscreen-specific features are built into Windows 10, we do not officially support touchscreen interactions at this time.
---